What is two-stage heating?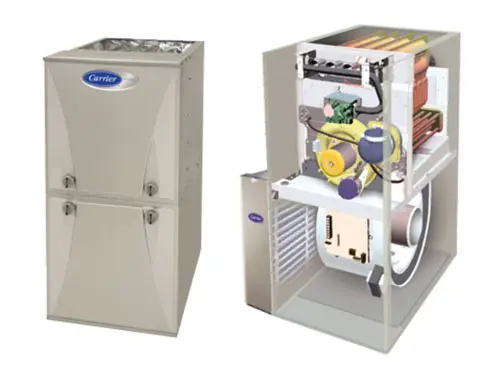 What are the benefits of a 2-stage furnace over a one-stage furnace?
There are many reasons a homeowner might choose a two-stage heating system over a single stage furnace. A two-stage heating system does not always function at its maximum capacity, allowing you to benefit from improved energy efficiency, quieter operation, and better performance.
The design of a two-stage furnace allows it to operate at approximately 65% of its total heating capacity. With a longer running heating cycle, a two-stage furnace is able to keep indoor temperatures more consistent. Rather than cycling on and blasting your home with a burst of warm air, then cycling off until there is a significant drop in temperature like the single stage furnace, the two stage furnace maintains a steady temperature, usually with no more than a variance of a few degrees. This helps provide a more comfortable and consistent indoor temperature.
By being able to run for a longer period of time and providing a more steady delivery of warm air, the two stage heating system is actually more energy efficient. When a constant temperature is maintained, there is no need for the heating system to function at maximum capacity to meet your heating needs. Of course, during periods of exceptionally cold weather, the two stage furnace can certainly maximize the amount of heat it outputs by utilizing its full heating capacity.
A two stage furnace can also provide much quieter operation than a single stage furnace. When the furnace is heating, it is generally operating below full capacity, so there is less noise. Also, with the furnace operating for a longer period of time, and at less than full capacity, more contaminants are able to be removed by the air filter. As the air moves through the HVAC filter, it removes irritants and pollutants, ensuring a healthier environment for your family.
Quiet, clean, energy efficient operation are just some of the advantages of a two stage heating system. With the advanced technology of this type of furnace, many homeowners find that they are able to enjoy a more comfortable indoor environment.
If you are interested in installing a new furnace or replacing an old one at your home in the San Fernando Valley area, call Zodiac Heating & Air Conditioning. We have over 36 years of experience providing exceptional heating and air conditioning services, including free on-site assessments and estimates for new installations, to residents throughout Calabasas, Canoga Park, Chatsworth, Encino, Northridge, Porter Ranch, Reseda, Sherman Oaks, Valencia, and surrounding areas. Our HVAC technicians are NATE Certified, and we are one of the largest Carrier Factory Authorized Dealers in Southern California, so you know we offer quality service you can trust. To schedule your free estimate on a heating installation, call us at (818) 465-8943.
Schedule a Free On-Site Quote
Call (818) 465-8943 or Send Us a Message Using the Form Below