Pitfalls to Avoid When Buying a New AC or Furnace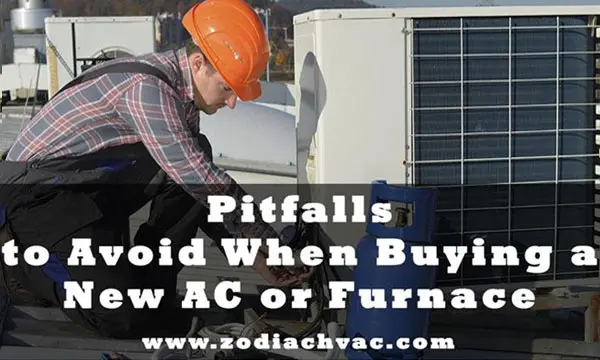 Buying a new furnace or air conditioning unit is a big expense. These are also some of the most important appliances you'll buy to make your home comfortable and livable. To make sure you get the best and don't make an expensive mistake, avoid these common AC and furnace shopping pitfalls.
Buying the wrong size.
The fact is that many consumers replace older heating and air conditioning units with new products that aren't the right size. If you don't get the right size for your home you could end up paying way too much on your energy bills, getting a build-up of mold in your ducts, and seeing expensive damage. Double check with your contractor to make sure you are choosing the right-sized products for your home.
Not considering the SEER rating.
If you don't know what SEER is, you could be missing out on buying the most efficient product that will save you money. When buying a new AC or furnace, check the seasonal energy efficiency ratio rating. The higher the number, the more efficient it is and the less money you'll spend on heating and cooling each month.
Going with the first estimate.
As with any major purchase, shop around. Settling for the first and only estimate you get for buying and installing a furnace or AC unit may mean you are missing out on a better deal with a more reliable contractor. Get several estimates and choose the one that you think works best for your home.
Selecting based on low price only.
You always want to pay less if you can, but when it comes to something as important to your home and your comfort as a new AC or furnace, price isn't always the best determining factor. As you sort through estimates, consider the reputation of the installers, their experience and references, and the quality of the product. A deeply discounted price may be too good to be true and may reflect cut corners.
Passing on a written guarantee.
Always get it in writing. If your installer or the manufacturer of your new unit is offering a guarantee, get it in writing or it doesn't exist. Don't let a salesperson fool you into accepting anything less. If a company stands by its products and services, it should be comfortable offering you a guarantee.
Always do your homework when making such an important purchase as a new AC or furnace, as it will determine how comfortable your home is and how much you spend on energy bills. Be knowledgeable and aware of the mistakes that others have made so you can avoid them.
Zodiac Heating and Air Conditioning has over 57 years of experience providing high quality service to our clients in San Fernando Valley. We provide heating and air conditioning services at affordable prices, and have a 100% satisfaction guarantee on new installations. Call us at (818) 465-8943 for a free estimate.
Schedule a Free On-Site Quote
Call (818) 465-8943 or Send Us a Message Using the Form Below